---

Enseigne | Samuel Bianchini
Contexts, Paris
Opening 28 May, 6:30 pm / Vernissage 28 mai, 18h30
From 29 May to 4 July 2015 / Du 29 mai au 4 juillet 2015
Personnal exhibition / Exposition personnelle
49 rue Ramponeau, Paris Belleville
More informations / Plus d'informations ici (only in french)
 
A white LEDS digital display panel is hung on an internal wall of the gallery Contexts. Flickering, unstable letters appear, are replaced by others, then fade out only to reappear in a different order. Sometimes, a word seems about to appear, but the movement stops and it disappears again, leaving space for a new search, a new meaning, a new word to write.
The words try to form, as if typed by invisible hands hovering over a far away keyboard. Sometimes timid, sometimes confident, the fragile movements of this 'tapuscript' seem to echo man's own efforts to learn, investigate, progress. The faltering writing calls into question not only linguistic codes but the fundamental motivations behind research and learning: Who made this? Why? How? Who do the words belong to? Who is seeking them out?
Sur le mur intérieur de la galerie Contexts est accroché un grand afficheur à leds blanches. Les lettres qu'il figure sont instables : elles apparaissent, sont remplacées par d'autres, sont effacées, pour être écrites à nouveau, mais dans un autre ordre, … Après quelques instants, parfois, un mot semble s'afficher, le mouvement s'arrête, puis repart, l'ensemble est effacé pour laisser place à la recherche d'un nouveau sens, d'un nouveau terme à écrire.Ces mots cherchent à se former, comme saisis par des mains invisibles agissant sur un clavier à distance. Ce tapuscrit permanent semble relever de mouvements dont la fragilité et l'hésitation incarnent une intentionnalité humaine en formation ou en recherche. Balbutiant ou parfois davantage déterminé, cette écriture maladroite interpelle son public, possiblement sur son terrain, son registre linguistique. Il appelle également à remonter le cours de ce qui le forme et le motive : "qui" produit cela ? Pourquoi ? Comment ? À qui appartiennent ces mots ? Qui les cherche ?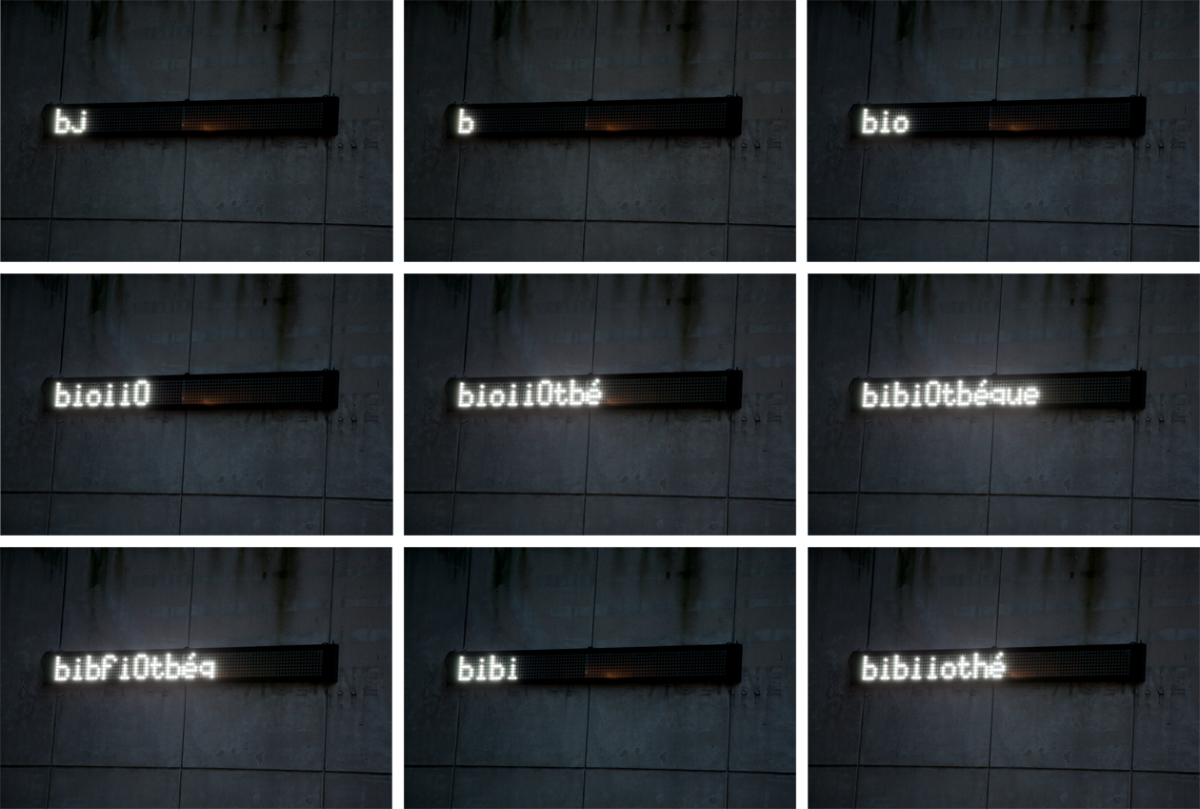 Photos: © Samuel Bianchini - ADAGP
---
In Realities / En Réalités | Samuel Bianchini and Sylvie Tissot
"Short Cuts", Kunsthaus CentrePasquArt, Biel / Bienne, Switzerland / Suisse
Group Show / Exposition collective
From 19 April to 14 June 2015 / Du 19 avril au 14 juin 2015
Curator / Commissaire : Daniel Sciboz
More informations here
Plus d'informations ici

In an age in which the digital is omnipresent the interdisciplinary group exhibition "Short Cuts" provides a platform for dialogue between the younger generation of media artists and the pioneers from the period 1955 to 1975. The works shown bring together references from art, science and society.
Dans un monde où le numérique est omniprésent, l'exposition collective "Short Cuts" propose un dialogue entre la jeune génération d'artistes spécialisés dans les nouveaux médias et le travail de leurs précurseurs des années 1955 à 1975. Les œuvres associent des références à la fois à l'art, à la science ainsi qu'à la société.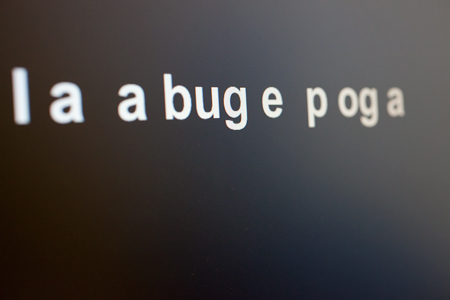 Photo: Douglas Edric Stanley
---

Multiple Art Days MAD #1
La Maison Rouge, Paris
22, 23, 24 May / mai 2015
10 boulevard de la Bastille, 75012 Paris
More informations here
Plus d'informations ici

mfc-michèle didier will propose for MAD a series of very heterogeneous artworks;
Many seem to be focused on completely opposed questions, yet all are the result of
«severe obsessions».
And you, what is your obsession?
mfc-michèle didier propose pour MAD un ensemble de travaux très hétéroclites; beaucoup d'entre eux sembleraient se préoccuper de cas diamétralement opposés, cependant tous sont le résultat d'«obsessions sévères».
Et vous, dans quelle obsession avez-vous basculé?
With / avec : Robert Barry, Samuel Bianchini, Claude Closky, On Kawara, Allan McCollum, Mathieu Mercier, Annette Messager.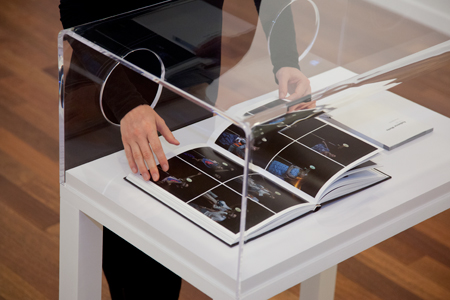 Photo: © Samuel Bianchini - ADAGP
---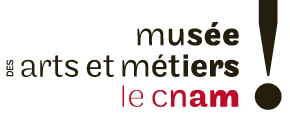 Histoire d'art et d'interactivité
Musée des Arts & Métiers, Paris
Collective exhibition / Exposition collective
From 11 to 14 June 2015 / Du 11 au 14 juin
Curators / Commissaires : Jean-Marie Dallet, Stéphane Natkin, Anolga Rodionoff
More informations / Plus d'information ici (only in french)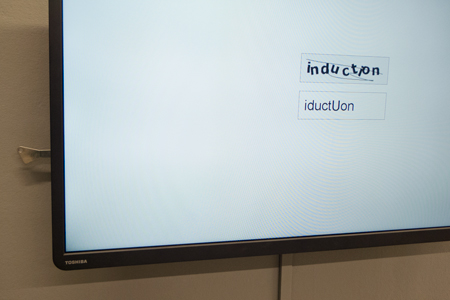 Photo: © Samuel Bianchini - ADAGP
---

 
Audience Works | Samuel Bianchini
Bibliothèque de l'EnsAD / EnsAD Library, Paris

New documentation about this exhibition [eng] : http://dispotheque.org/en/audience-works
Nouvelle documentation sur cette exposition [fr] : http://dispotheque.org/fr/audience-works
 
Exhibition related to the doctoral seminar "Observer les pratiques créatives" organized by Francesca Cozzolino, Jean-Baptiste Labrune and Emmanuel Mahé.
Roundtable "Quand les créateurs observent" on 28 April with Samuel Bianchini, Hortense Soichet and Paul Sztulman.
Exposition en lien avec le séminaire doctoral de recherche "Observer les pratiques créatives", organisé par Francesca Cozzolino, Jean-Baptiste Labrune et Emmanuel Mahé.
Table ronde "Quand les créateurs observent", le 28 avril avec Samuel Bianchini, Hortense Soichet et Paul Sztulman.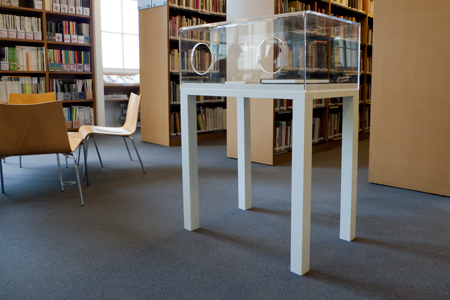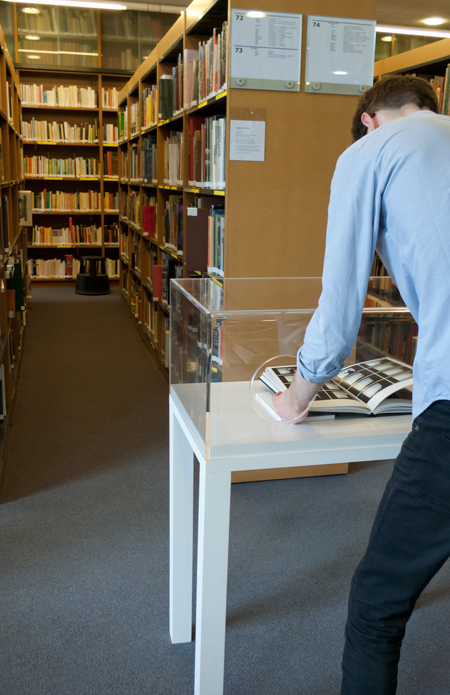 Photos: © Samuel Bianchini - ADAGP
---

À perte de vue, les nouveaux paradigmes du visuel
Daniel Dubuisson et Sophie Raux (eds.)
Éd. Les presses du réel, Coll. Perceptions, April / avril 2015
With a text of / Avec un texte de Samuel Bianchini : "Audience Works. Étudier, par l'image, le public pratiquant des installations interactives", pp. 411-428
More informations here
Plus d'informations ici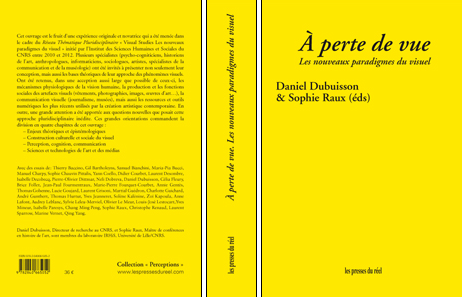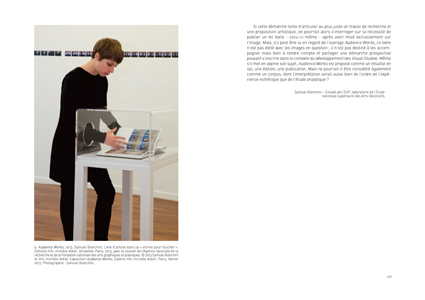 ---

Samuel Bianchini 
Regards croisés entre art et industrie
Maxence Grugier
Digitalarti, serie "Focus on an artist", online publication, 5 May 2015 (only in french)
Digitalarti, série "Focus sur un artiste", publication en ligne le 5 mai 2015
---
Samuel Bianchini is represented
by Ilan Engel Gallery (Paris) – http://www.ilanengelgallery.com
and works, for his art publications,
with mfc-michèle didier (Brussels, Paris) – http://www.micheledidier.com