Sign [Typescript]
in situ installation, 2012
Samuel Bianchini

Commissioned by the Théâtre de la Cité internationale
Coproduction: Centre de valorisation du Patrimoine de la Cité internationale universitaire de Paris
This work was produced in the framework of the 'Art Campus' program, with the support of the Ministry of Culture and Communication and in partnership with the 'Art+Université+Culture' network.
Curators: Contexts, Paris – Belleville
Typing behaviour programming: Oussama Mubarak
Technical production and interfacing software: Antoine Villeret
Assistant: Élodie Tincq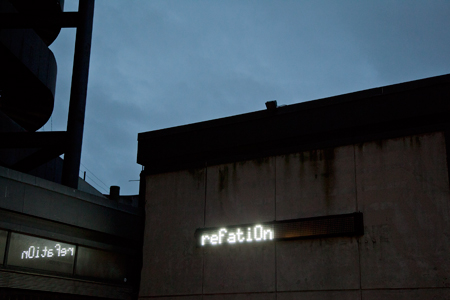 To download this image in HD (Tiff), click here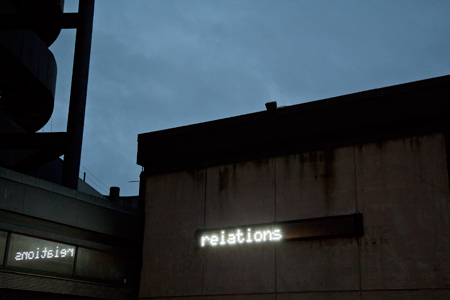 To download this image in HD (Tiff), click here
Sign [Typescript], Samuel Bianchini, 2012
Cité universitaire internationale de Paris, Avicenne building, December 2012.
Photographs: © Samuel Bianchini - ADAGP
---
Sign [Typescript] is a permanent installation designed in response to a brief from Art Campus, producer of works of contemporary art distributed within the network of French university campuses, and bearing a relation to the campus' heritage and architecture. 
A white LEDS digital display panel is hung on an external or internal wall of a campus building. Flickering, unstable letters appear, are replaced by others, then fade out only to reappear in a different order. Sometimes, a word seems about to appear, but the movement stops and it disappears again, leaving space for a new search, a new meaning, a new word to write.
The words that hesitantly appear are borrowed from and intended to represent the vocabulary specific to the fields of research and training, but also to life in general on the campus concerned. Day and night, the words try to form, as if typed by invisible hands hovering over a far away keyboard. Sometimes timid, sometimes confident, the fragile movements of this 'tapuscript' seem to echo man's own efforts to learn, investigate, progress. The faltering writing calls into question not only linguistic codes but the fundamental motivations behind research and learning: Who made this? Why? How? Who do the words belong to? Who is seeking them out?
---
Sign [Typescript], 
Samuel Bianchini, 2012
Cité universitaire internationale de Paris, Avicenne building, December 2012.
Video - 2mn04s - High band request
Images and editing: © Samuel Bianchini - ADAGP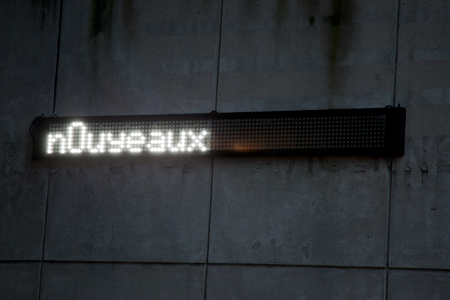 To download this image in HD (Tiff), click here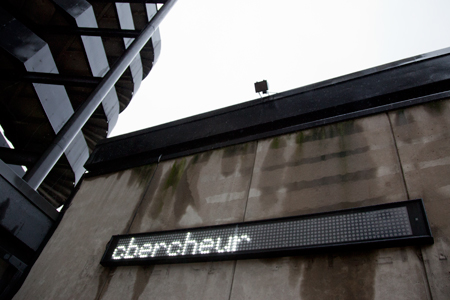 To download this image in HD (Tiff), click here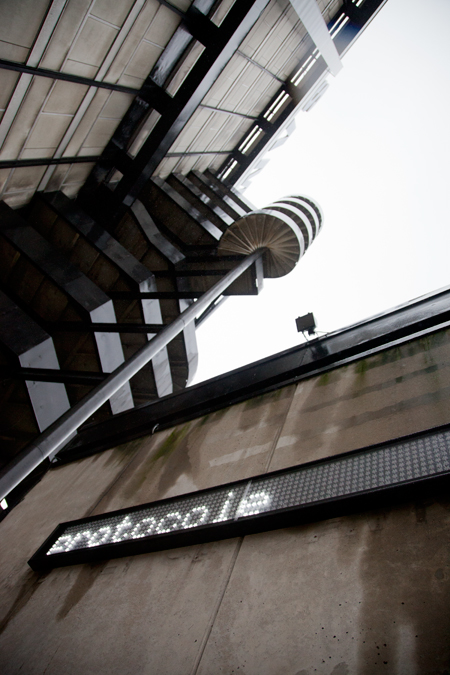 To download this image in HD (Tiff), click here
To download the image series in HD (Tiff), click here
To download the image series in HD (Tiff), click here
Sign [Typescript], Samuel Bianchini, 2012
Cité universitaire internationale de Paris, Avicenne building, December 2012.
Photographs: © Samuel Bianchini - ADAGP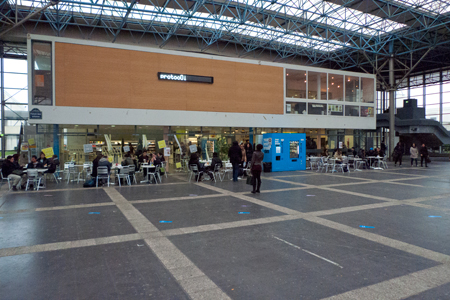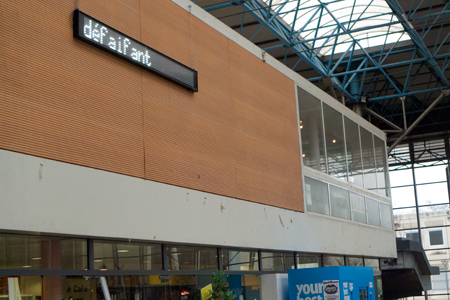 Sign [Typescript]
In situ Installation, Samuel Bianchini, 2012
Université Paris 13, Campus de Villetaneuse, January 2014
Photo: © Samuel Bianchini - ADAGP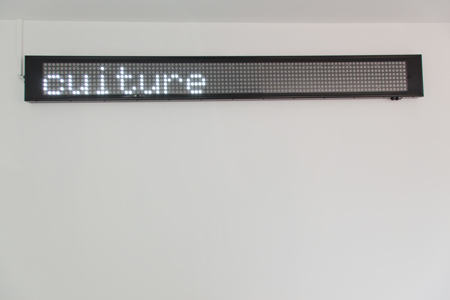 To download this image in HD (Tiff), click here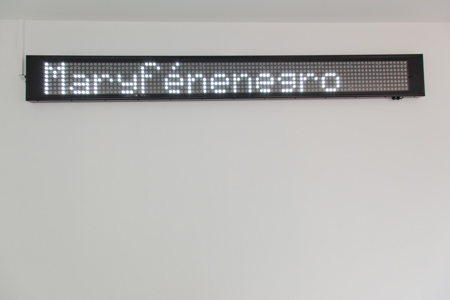 To download this image in HD (Tiff), click here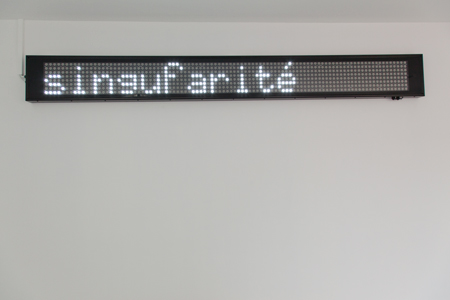 To download this image in HD (Tiff), click here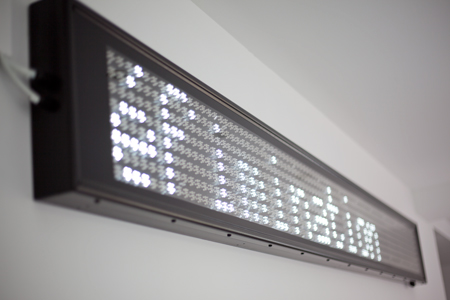 To download this image in HD (Tiff), click here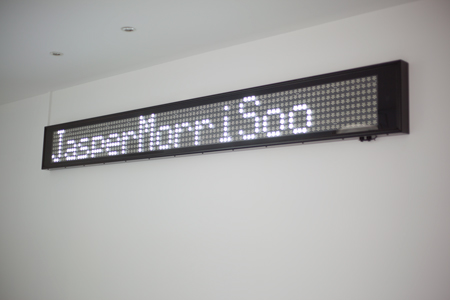 To download this image in HD (Tiff), click here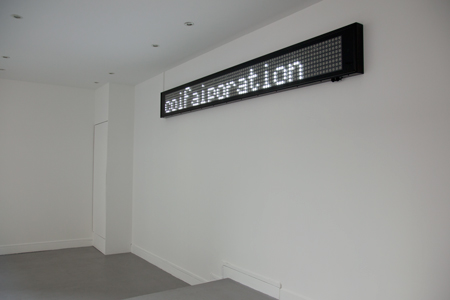 To download this image in HD (Tiff), click here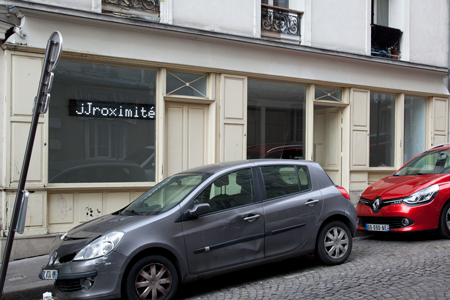 To download this image in HD (Tiff), click here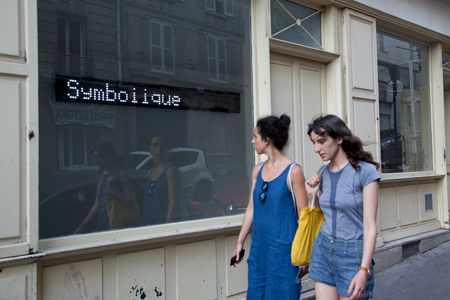 To download this image in HD (Tiff), click here

Sign [Typescript]
In situ Installation, Samuel Bianchini, 2012
Contexts gallery, Paris, personnal exhibition from 29 May to 4 July 2015
Photo: © Samuel Bianchini - ADAGP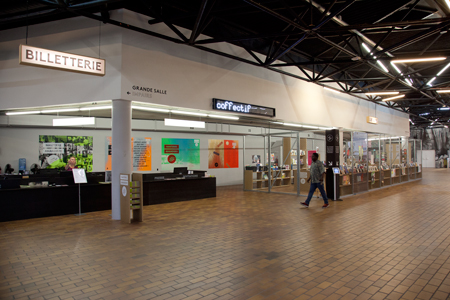 To download this image in HD (Tiff), click here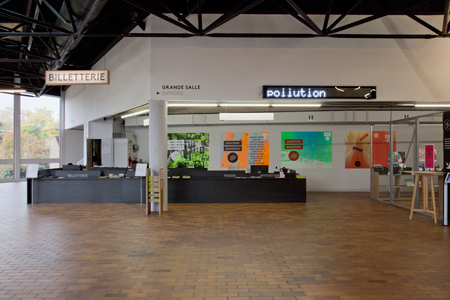 To download this image in HD (Tiff), click here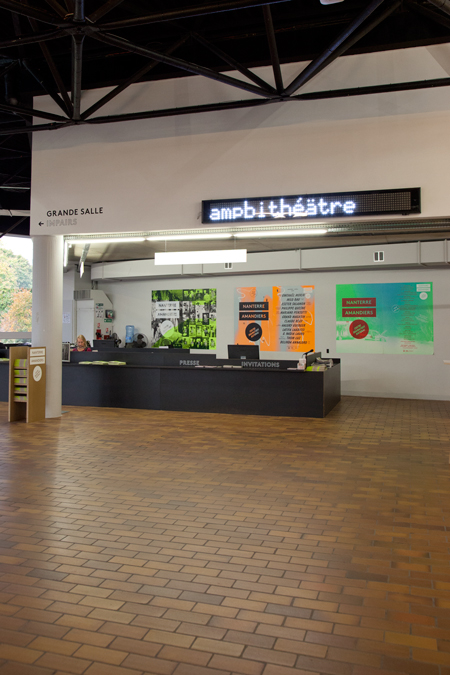 To download this image in HD (Tiff), click here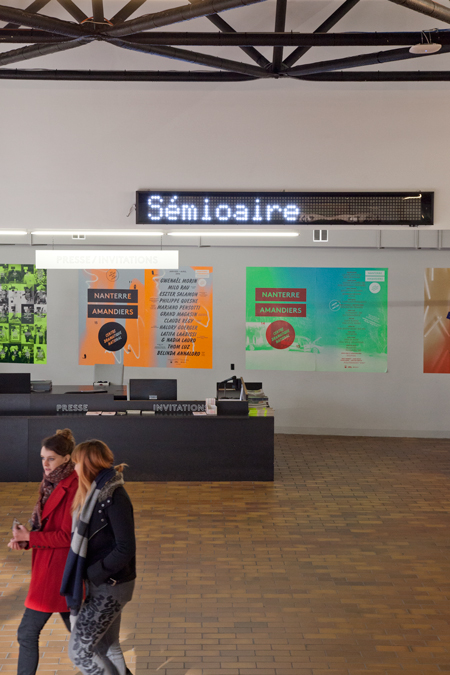 To download this image in HD (Tiff), click here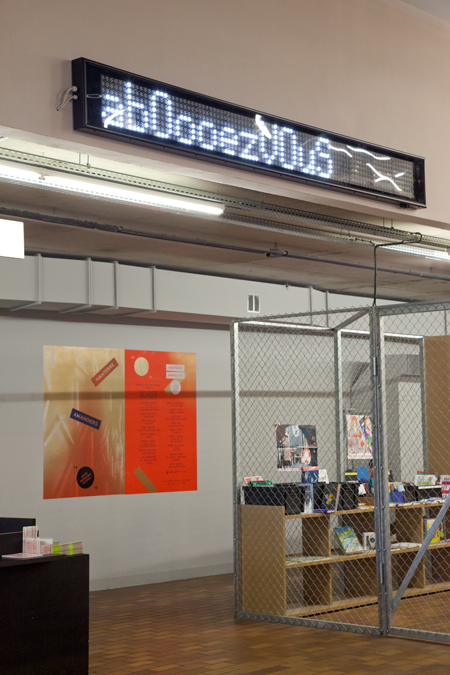 To download this image in HD (Tiff), click here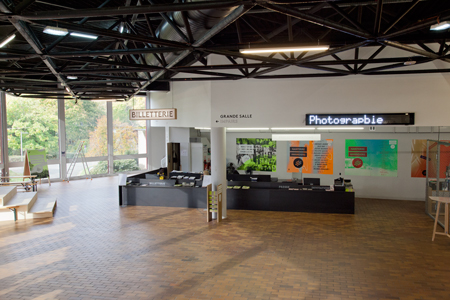 To download this image in HD (Tiff), click here

Enseigne [Tapuscript] 
in situ Installation, Samuel Bianchini, 2012
Nanterre-Amandiers - Centre dramatique national, 2016-2018 Seasons
Photos: © Samuel Bianchini - ADAGP