Potential Flag
Interactive installation, 2008
Samuel Bianchini

Electronic and Computer Engineering: Cyrille Henry
With the support of laboratories CiTu (Fédération de laboratoires des Universités Paris 1 et Paris 8) and Limsi-CNRS (Laboratoire d'informatique pour la mécanique et les sciences de l'ingénieur, Orsay)
The developments of this work have contributed to the improvement of the opensource software
Pure Data / Gem (GPGPU_Physical_model.pd)
This work is dedicated to Céleste Boursier-Mougenot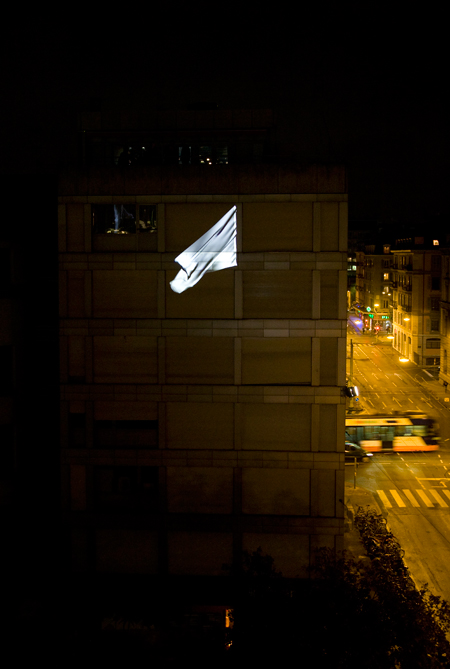 To download this image in HD (Tiff), click here
Potential Flag, Samuel Bianchini, 2008
Exhibition Version bêta, Centre pour l'image contemporaine, Geneva, October 2008.
Photograph: © Samuel Bianchini - ADAGP
---
Potential Flag  is an installation designed for an urban space. A large-scale image of a white flag is projected on a building. The image and its animation are fully computer generated. The flag's movements, calculated in real time, correspond precisely to the wind as it is measured on site by a specific sensor. The flag is white, virtual and potential as much by its technical dimension as by its symbolical one. Forever in search of realism, the computer graphic image flaunts its ambitions as much as its inability to gain a firm foothold in reality.
For its first exhibition, on the facade of the Centre pour l'image contemporaine building, the projected image conjures up the political context of an international Geneva.
---
Potential Flag
, Samuel Bianchini, 2008
Exhibition
 Version bêta
, Centre pour l'image contemporaine, Geneva, October 2008.
Video - 3mn37s - High band request
Images and editing: © Samuel Bianchini - ADAGP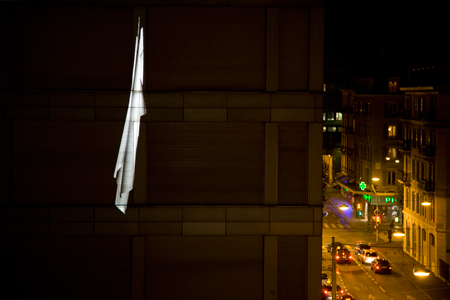 To download this image in HD (Tiff), click here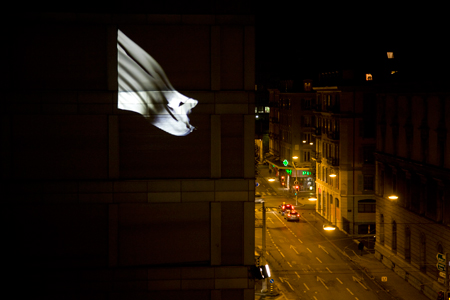 To download this image in HD (Tiff), click here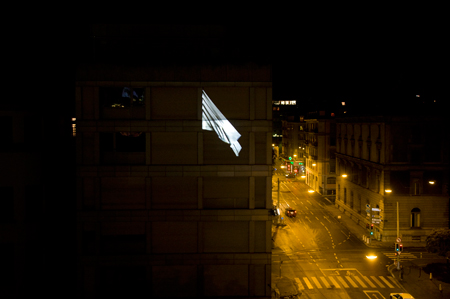 To download this image in HD (Tiff), click here
To download the image series in HD (Tiff), click here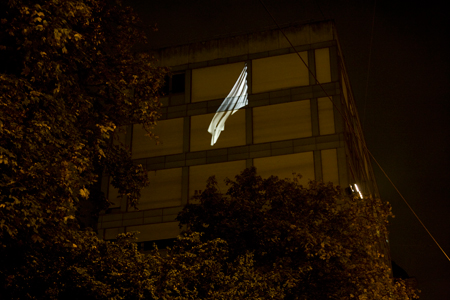 To download this image in HD (Tiff), click here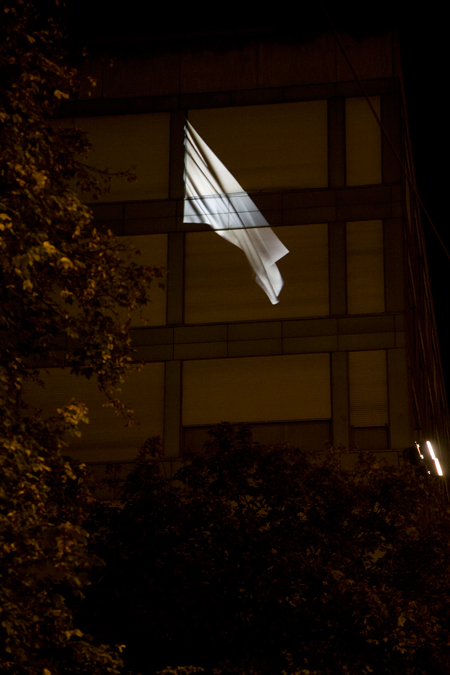 To download this image in HD (Tiff), click here
Potential Flag, Samuel Bianchini, 2008
Exhibition Version bêta, Centre pour l'image contemporaine, Geneva, October 2008.
Photographs: © Samuel Bianchini - ADAGP