Pas de deux pas de
Choreographic duet for spotlights, 2016
Samuel Bianchini
Based on a free interpretation of a choreographic score of Act III of Swan Lake by Ivanov, Petipa and Sergeyev
Research and programming for light interpretation: Alexandre Saunier
Choreographic notation (original Laban score analysis and adaptation): Amandine Bajou
A project created for Nuit Blanche Toronto 2016
Production: City of Toronto
Curator: Louise Déry
Acknowledgments: Asad Raza, Dan Surman, Jonathan Tanant
This projected is powered by Mobilizing.js, a programming environment for artists and designers developed by EnsadLab (The Laboratory of the École nationale supérieure des Arts Décoratifs, PSL Research University, Paris).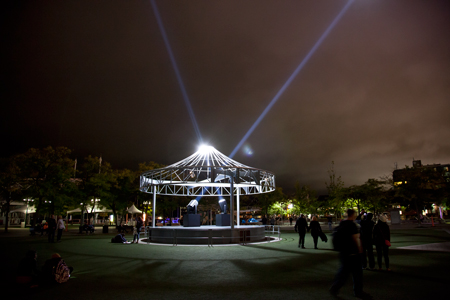 To download this image in HD (Tiff), click here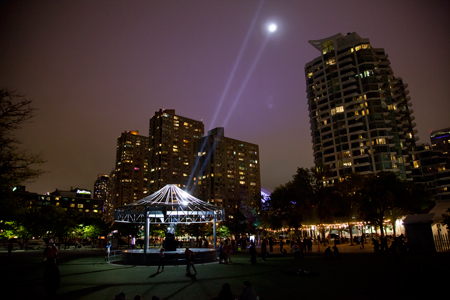 To download this image in HD (Tiff), click here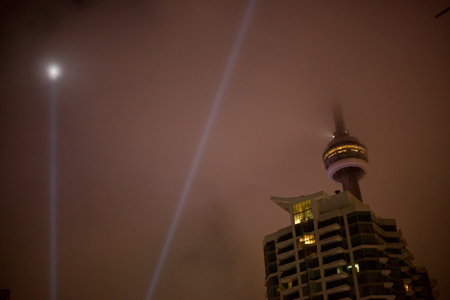 To download this image in HD (Tiff), click here

Pas de deux pas de, Samuel Bianchini, 2016
Nuit Blanche, Toronto, October 2016
Photographs : © Samuel Bianchini - ADAGP
---
Pas de deux pas de is a choreographic duet for two spotlights. Two devices, just like those used in live performance to follow and underline a performer's interpretation on stage, project beams of white light. They are visible on the scale of the city, in the sky and in the surrounding areas, and – above all – they light each other. The machines show themselves, avoid each other, seek each other out, synchronize with each other – or not. This time, they are the ones on stage. The spotlights intended to highlight performers have taken their place. These human-size spotlights attempt to perform, under the stars, a conclusionless love duet, an endless pas de deux, all through the night, on the banks on Lake Ontario.
"Adagio", "variations", "coda" – how can these machines perform dance figures? How can they embody human movements, and even feelings? While they are no longer bachelor machines, can they move together as a couple? How can one of the first and most famous "pas de deux", from Swan Lake, be interpreted from a choreographic score translated for such machines? And how can they, as they carry out their steps in a public space, take into account their environment, which might disturb, intimidate, or even divert their attention – like the very real human dancers nearby, performing a choreographic work by Paul-André Fortier?
---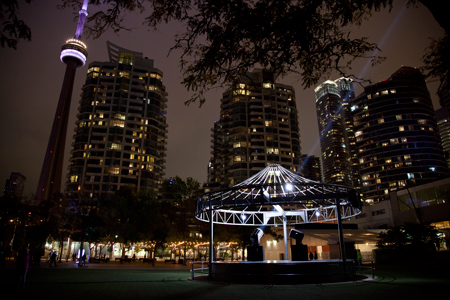 To download this image in HD (Tiff), click here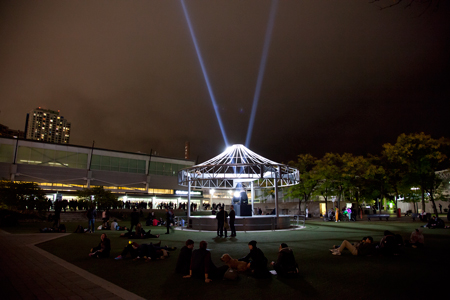 To download this image in HD (Tiff), click here



To download this image in HD (Tiff), click here



To download this image in HD (Tiff), click here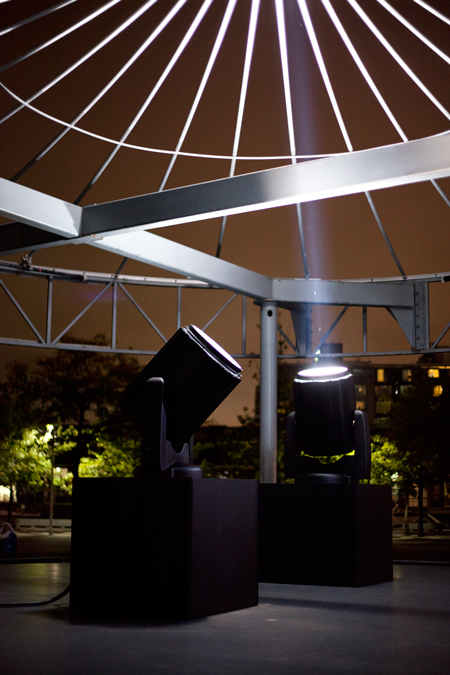 To download this image in HD (Tiff), click here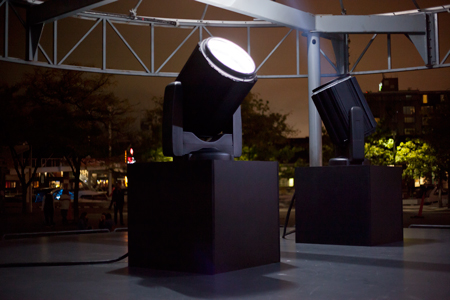 To download this image in HD (Tiff), click here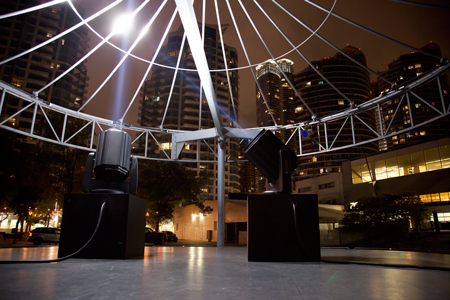 To download this image in HD (Tiff), click here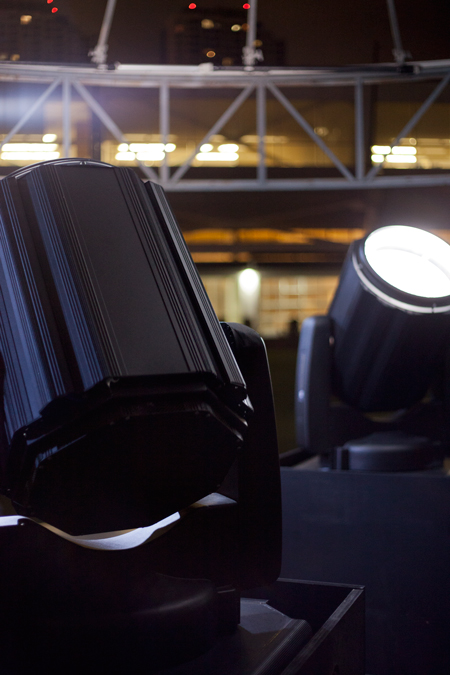 To download this image in HD (Tiff), click here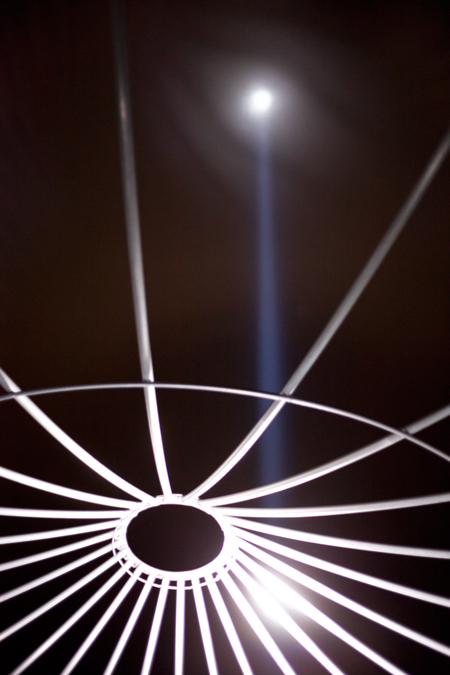 To download this image in HD (Tiff), click here



To download this image in HD (Tiff), click here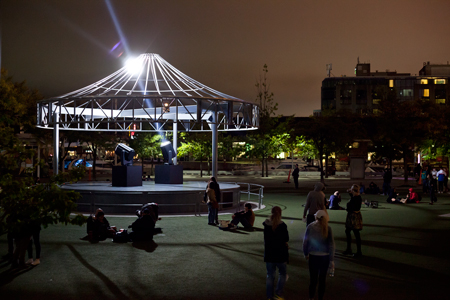 To download this image in HD (Tiff), click here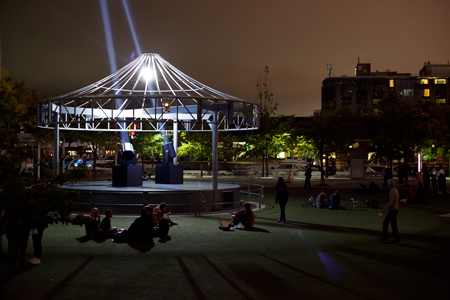 To download this image in HD (Tiff), click here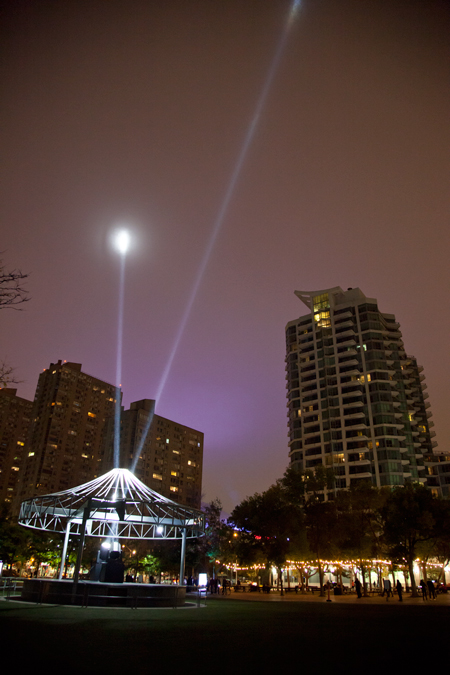 To download this image in HD (Tiff), click here

Pas de deux pas de, Samuel Bianchini, 2016
Nuit Blanche, Toronto, October 2016
Photographs : © Samuel Bianchini - ADAGP