On the Qui Vive
In situ installation, 2012
Samuel Bianchini
Art & Essai Gallery, University Rennes 2, France, 2012
Production: University Rennes 2, in partnership with the École supérieure d'ingénieurs de Rennes (Esir) - University Rennes 1
Exhibition curators: Denis Briand and Marion Hohlfeldt
Technical conception and execution: Maël Teillant
Technical expertise and consultancy: Patrice Barbel (Esir)
Technical assistant: Gwenaël Payen
Production: Antoine Bertron, Ludovic Jouet and Charley Lebarbier
Organization of the Artists' Residence, Department of the Visual Arts, University Rennes 2: Christophe Viart
With the collaboration of: Thomas Gilly and Paul Phan (students at Esir, 2011-2012); Aline Bansard, Boris Clémensart, Maxime Le Clanche, Laurène Marin, Ekarat Tosomboon, Tony Vanpoucke (students in Visual Arts at the University Rennes 2, 2011-2012); Thomas Moulin (student in Visual Arts at the University Paris 1, 2011-2012)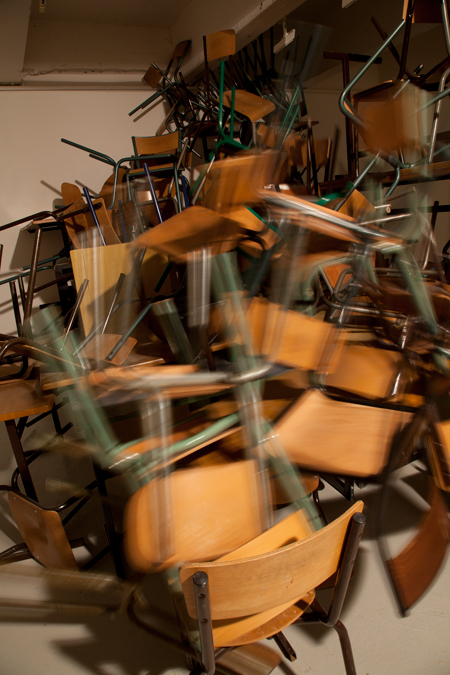 To download this image in HD (Tiff), click here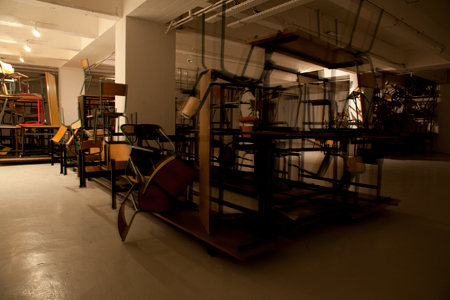 To download this image in HD (Tiff), click here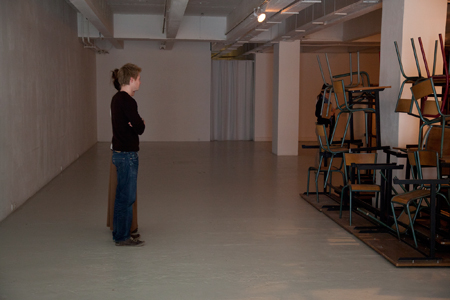 To download this image in HD (Tiff), click here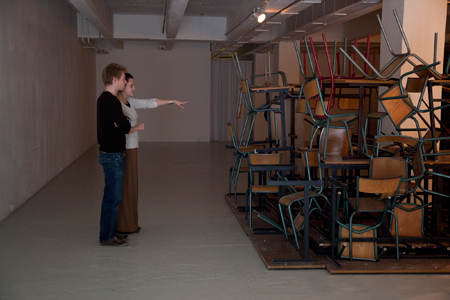 To download this image in HD (Tiff), click here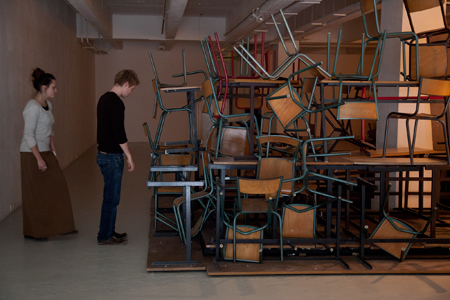 To download this image in HD (Tiff), click here
On the Qui Vive, Samuel Bianchini, 2012
Art & Essai Gallery, University Rennes 2, January 2012.
Photographs: © Samuel Bianchini - ADAGP
---
The Art & Essai Gallery is situated on the campus of the University Rennes 2, in a space between the basement and the ground floor, just under the University Library, a daily destination for students and researchers alike. In addition to its visitors, this large and windowless gallery lives to the rhythms of footfalls and moving of furniture produced by the library's users. The university's tables and chairs, although they are constantly being used –even during strikes, to block access to the university–now go by unnoticed. And so this in-situ installation mobilizes precisely these tables and chairs, drawing our attention to them. It endows the furniture–brought together, neatly arranged or piled up randomly–with the physical faculties that allow it to react to the surrounding activity by coming to life, as it were. While a vast array of tables and chairs extends over several meters, another moves within it, like a sleeping animal, disturbed by people always ready to solicit it for conventional, and not so conventional, uses. The actions of the public, in the gallery or its surroundings (the library especially), prompt reactions–minor but powerful, slow but very physical–from this furniture heap: sudden or slow shift, tipping... These movements, in turn, are accentuated by the creaks that accompany them and by the changes in the lighting of the gallery, which is mostly dark. Environment, furniture, or spectator: everyone is called upon to be on the qui-vive, to pay attention to the surroundings while pondering just what might be the intentions of the others.
---
On the Qui Vive
, Samuel Bianchini, 2012
Art & Essai Gallery, University Rennes 2, January 2012. 
Video - 3mn52s - High band request
Images: Créa, Université Rennes 2
Editing: Anne Lemarchand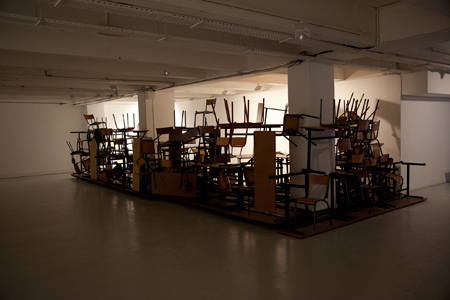 To download this image in HD (Tiff), click here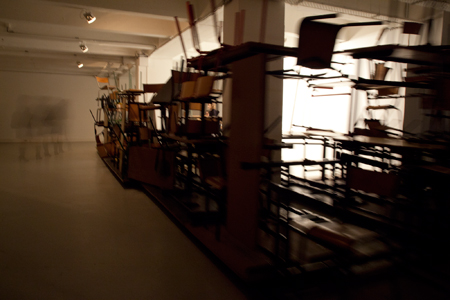 To download this image in HD (Tiff), click here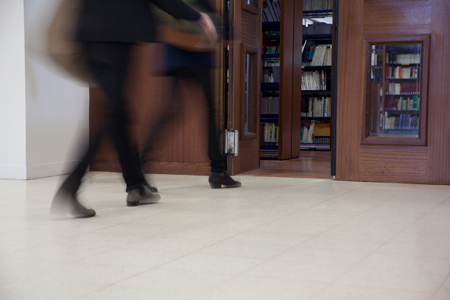 To download this image in HD (Tiff), click here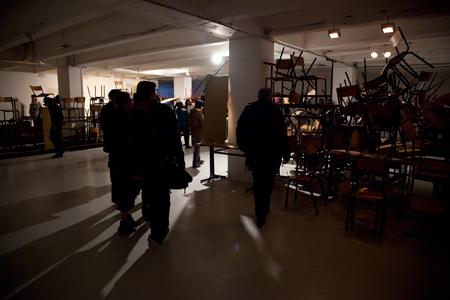 To download this image in HD (Tiff), click here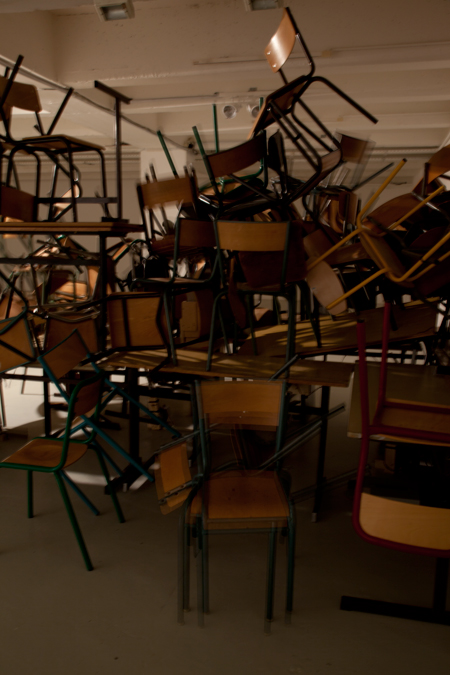 To download this image in HD (Tiff), click here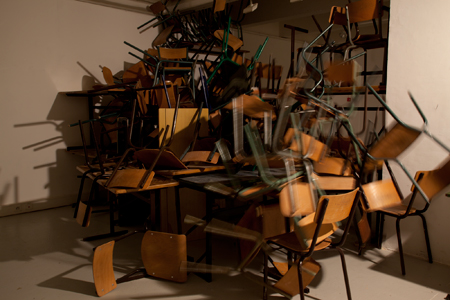 To download this image in HD (Tiff), click here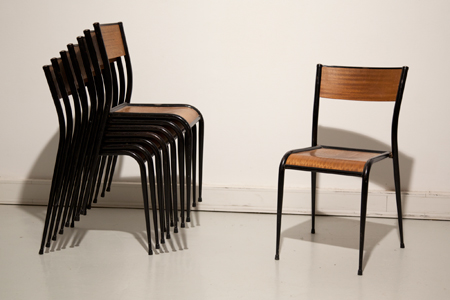 To download this image in HD (Tiff), click here

To download this image in HD (Tiff), click here
On the Qui Vive, Samuel Bianchini, 2012
Art & Essai Gallery, University Rennes 2, January 2012 
Photographs: © Samuel Bianchini - ADAGP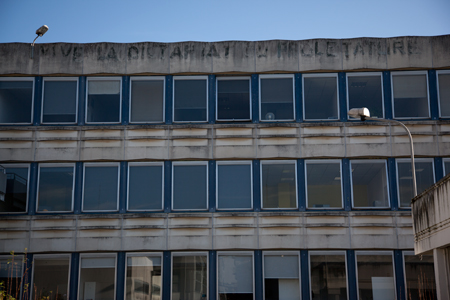 To download this image in HD (Tiff), click here
University Rennes 2, January 2012
"vive la dictariat du prolétature", inscription datant des années 70 et emblématique de la politisation de cette université.
Cf. l'ouvrage V.L.D.D.P.*de Denis Briand sur le sujet, Éd. Incertain Sens, 2010.
Photograph: © Samuel Bianchini - ADAGP