Contretemps
Interactive installation, 2004 - 2010
Samuel Bianchini
Visual programming: Emmanuel Méhois
Touch screen programming: Gilles Bollaert and Jérôme Grellier, École européenne supérieure de l'image (EESI), Angoulême and Poitiers, France
With the participation of Reynaud Olry
Production: Dispothèque
Thanks: Jean-Jacques Gay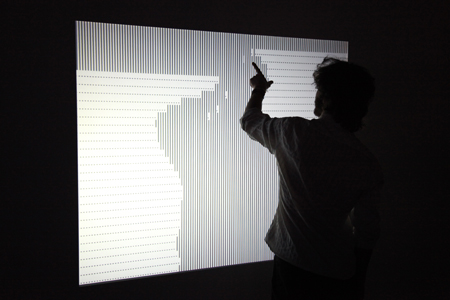 To download this image in HD (Tiff), click here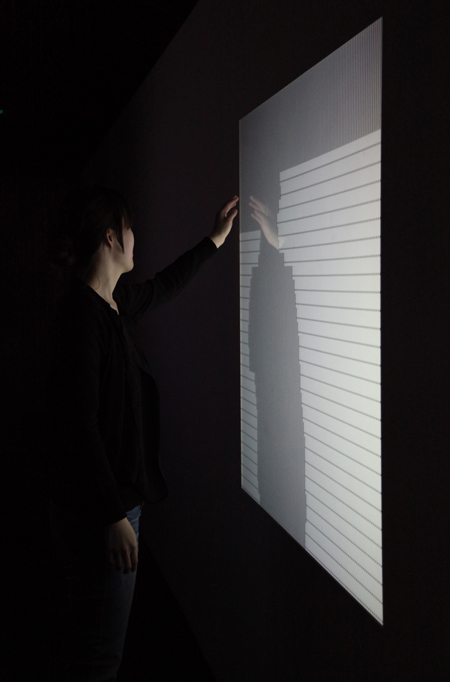 To download this image in HD (Tiff), click here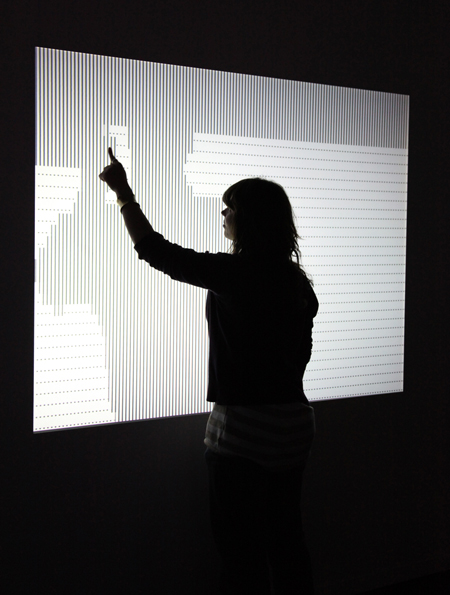 To download this image in HD (Tiff), click here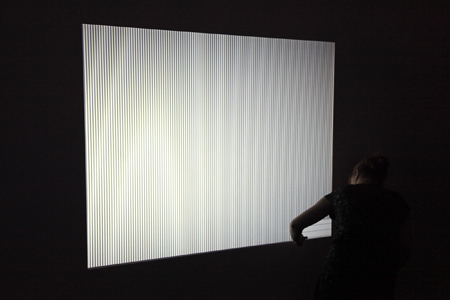 To download this image in HD (Tiff), click here
Contretemps, Samuel Bianchini, 2004-2010
Maintenance, solo show, École européenne supérieure de l'image, Poitiers, France, from May to June, 2010.
Photographs: © Samuel Bianchini - ADAGP
---
Contretemps is an interactive installation. An Ascii Art film–the image entirely composed of typographical characters–is displayed on a large, glass touch screen. The film, which actually uses only two characters, the 'pipe' (or vertical bar, '|') and the period ('.'), shows a life-sized silhouette of a man facing a wall on which he traces small vertical lines, like a prisoner counting the time spent in jail. Both the man and the lines he is tracing are composed of vertical bars, '|', and so they gradually merge into one another. He continues tracing the lines until the screen is filled with '|'s and all we are left with is a field of characters, a typographic gray.
Each character on the screen is a hypertext link, and by clicking on any one of them, the viewer moves either forward or backwards in the time of the film: clicking on a character at the top of the screen takes us to the beginning, whereas clicking on one at the bottom of the screen takes us to the end. As we peruse the image, line-by-line and character-by-character, we also animate, as the image follows our gestures on the screen.
By playing with the animation, first in one direction, then in another, and by counting off the same characters as the protagonist on the screen, viewers find themselves in a parallel, indeed in a convergent, situation with him. A change of degree is possible: the viewer's situation is increasingly analogous to the character's, especially when the image, as it gradually fades to a field of characters, no longer offers any depth or subject, but only a blind wall. The positions from the third (he/she) to the first (I) person are not fixed; rather, they are intermediary, variable, and to be experimented with.
---
Contretemps, Samuel Bianchini, 2004-2010
Maintenance, solo show, École européenne supérieure de l'image, Poitiers, France, from May to June, 2010.
Video - 51s - High band request
Images and editing: © Samuel Bianchini - ADAGP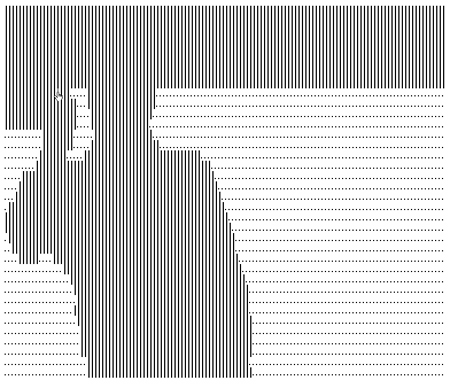 To download this image in HD (Tiff), click here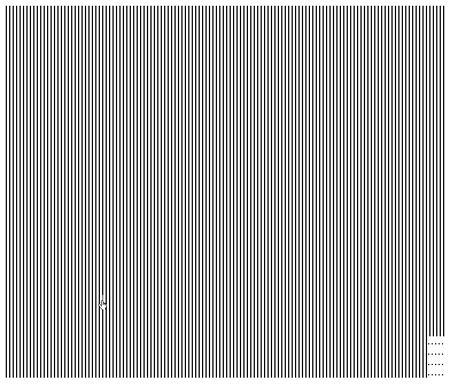 To download this image in HD (Tiff), click here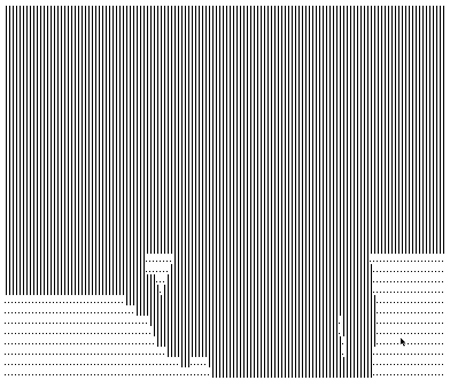 To download this image in HD (Tiff), click here

To download this image in HD (Tiff), click here